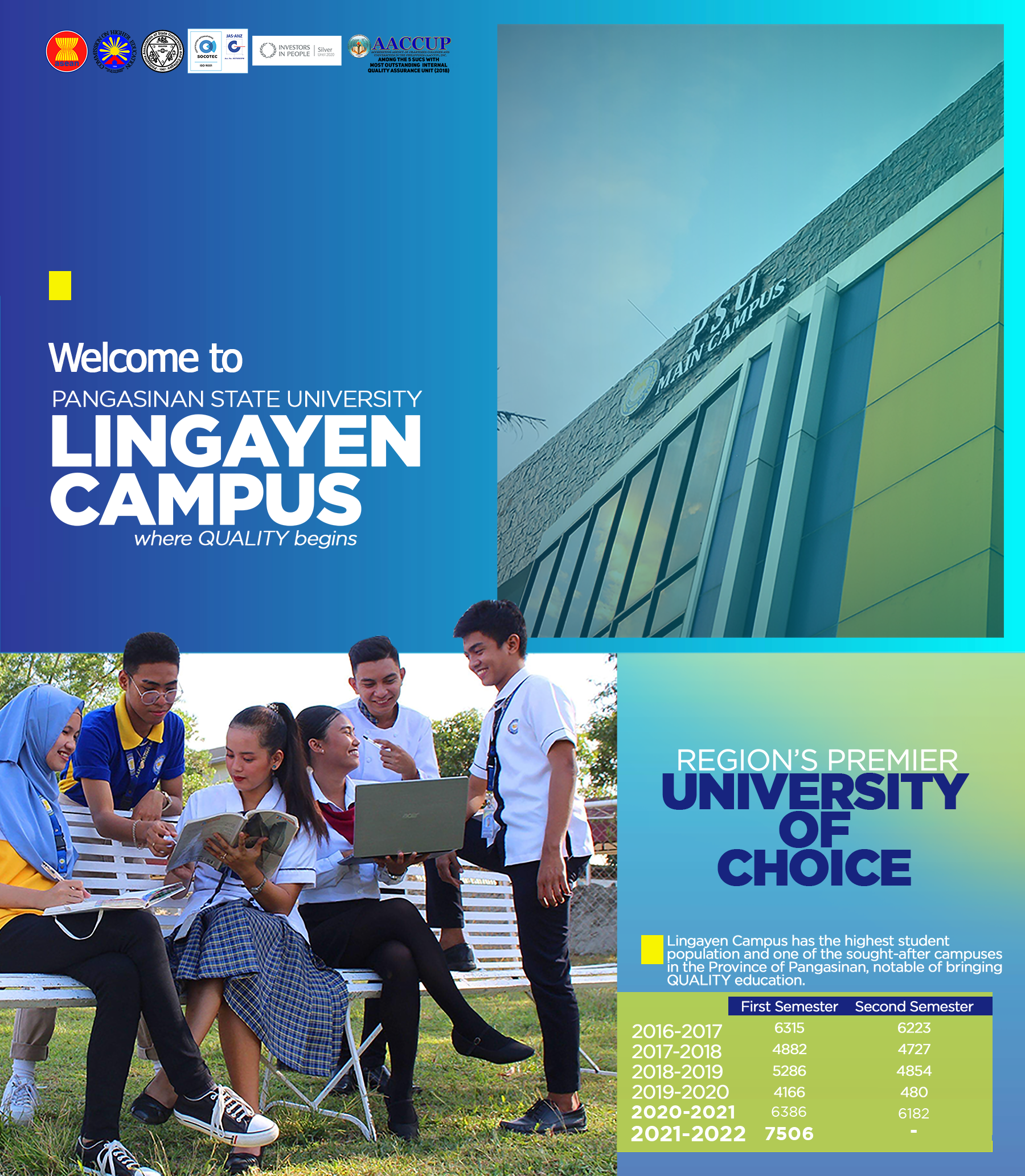 HISTORY
The Pangasinan State University was chartered through the issuance of Presidential Decree No. 1497 promulgated on June 11, 1978 and became operational on July 1, 1979.
The University integrated the collegiate courses of five DECS supervised institutions in the province and all the programs of the then Central Luzon Teachers College (CLTC) and Western Pangasinan College of Agriculture (WPCA).
The DECS institutions were:
Asingan School of Arts and Trades (ASAT) in Asingan;
a. Eastern Pangasinan Agricultural College (EPAC) in Sta. Maria;
b. Pangasinan College of Fisheries (PCF) in Binmaley;
c. Pangasinan School of Arts and Trades (PSAT) in Lingayen; and
d. Speaker Eugenio Perez National Agricultural School (SEPNAS) in San Carlos City
Institutionally speaking, there were only two institutions that were integrated into the University system, namely, the then Central Luzon Teachers College (CLTC) in Bayambang and the Western Pangasinan College of Agriculture in Infanta. For the other institutions namely, the Asingan School of Arts and Trades (ASAT) in Asingan, Eastern Pangasinan Agriculture College (EPAC) in Sta. Maria, Pangasinan College of Fisheries (PCF) in Binmaley, Pangasinan School of Arts and Trades (PSAT) in Lingayen, and the Speaker Eugenio Perez National Agricultural School (SEPNAS) in San Carlos City, what were integrated into the system were their respective collegiate programs. These said schools are still operating under the administration and supervision of the Department of Education (DepEd) and Technical Education and Skills Development Authority (TESDA).
Central Luzon Teachers College (CLTC) came into being first as the Bayambang Normal School in 1922. It offered then the secondary normal course which prepared much needed teachers for the country. The school closed in 1935 due to inadequate funds but opened up in 1948 under a new name- Pangasinan Normal School, which offered the two year collegiate teacher education program. It was in 1952-1953 that the college like any other regional normal school began offering the four-year bachelor's degree program for elementary teachers.
In 1953, the normal school with the elementary schools in the District of Bautista and the Bayambang National High School were merged to become the Philippine UNESCO National Community Training Center. It operated as a school division in Pangasinan.
Republic Act 5705 converted the school into a chartered institution, the then Central Luzon Teachers College on June 21, 1969. As provided in the charter of the college, the major functions of the institution are instruction, research and extension service.
The Western Pangasinan College of Agriculture (WPCA) in Infanta was created through the issuance of Presidential Decree No. 1494 during the same day on June 11,1978 when the charter of the Pangasinan State University was signed into law through Presidential Decree No. 1497.
As the University started its operations in June 1979, it had two Colleges of Agriculture located in Sta. Maria and San Carlos City; two College of Arts and Trades in Lingayen and Asingan; a College of Education in Bayambang; and a College of Fisheries in Binmaley.
In 1981, the College of Agriculture in Infanta (the then Western Pangasinan College of Agriculture created under P.D. 1494) was opened. Art and Science courses were also offered in the College of Education in Bayambang. During the same year also, the land site of the PSU Main Administration was donated by the provincial government of Pangasinan. The following year 1982, the seat of the University Administration was transferred form Bayambang to Lingayen with the completion of the Administration Building. The College of Arts and Sciences was also formally created in Lingayen with the transfer of some courses from Bayambang. The Doctorate in Education (Ed.D.) Program was also offered for the first time to school managers and teachers.
The year 1983 was the opening of the College of Engineering and Technology in Urdaneta as an extension campus of the College of Arts and Technology in Asingan. In 1987, the two campuses were integrated as the College of Engineering and Technology of the Asingan/Urdaneta Complex only to be separated again in 1989. In 1984, the Marine Research Center in Sual, Pangasinan was established.
An alternative mode of instruction was introduced in the University in 1997 which catered to those who could not attend regular classes but would like to undergo formal education.  This breakthrough became known as the PSU Open University Systems (PSU-OUS), now an autonomous unit of the University with operations extending to faraway provinces even up to the Visayas area.
The two campuses in Lingayen, fused together in the late 80's and separated again in 1993, were reunited as one campus in 2001 as the PSU College of Arts, Sciences and Technology (PSU-CAST). This merging is expected to result to a leaner, more efficient and cost-effective operations.
On February 03, 2005, the PSU Board of Regents in its first regular meeting for CY 2005 held at the Office of the President, PSU Main, Lingayen, Pangasinan passed Resolution No. 07, s. 2005 approving the areal integration of PSU Urdaneta, PSU, Sta. Maria and PSU Asingan into the PSU Eastern Cluster. However, the experiment on the cluster was terminated in May 2008. PSU BOR Resolution No. 13 dated May 28, 2008 dissolved the eastern cluster. The three campuses that composed the cluster reverted back to their original status as autonomous campuses.
In 2009, the Sangguniang Panglungsod of the City of Alaminos has favorably endorsed and approved the establishment of Pangasinan State University Campus in the City of Alaminos as contained in Resolution No. 2007-84 adopted on November 16, 2007.
PSU Alaminos City Campus was approved by the PSU Board of Regents sitting en banc on April 19, 2009 at the University Hotel, University of the Philippines, Diliman, Quezon, City as contained in its Resolution No. 04, series 2009. PSU Alaminos Campus was conceived with the principle that the National and Local Government have the responsibility of ensuring the happiness and well being as well as a stable life of the present generation brought about by a progressing economy and a well developed society that exist within the wider context of the environment that requires the interaction among well educated and value-driven citizens.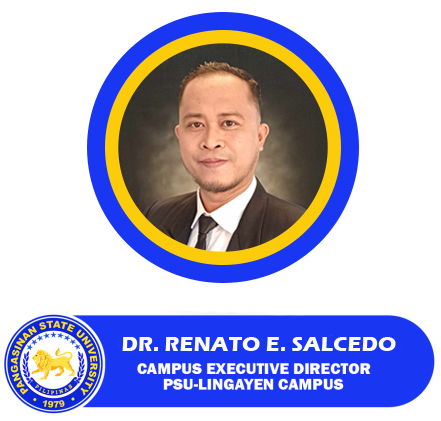 As we cope with the radical impacts of this pandemic, I write most importantly with a hope that you and your family are safe and healthy.
Today, as we are heading toward an interesting yet challenging time in higher education, we continue to reach another milestone in escalating our standards which are centered on learners' progress — providing them with remarkable experiences and networks advantageous in attaining their respective careers successfully.
This accreditation is a testament of our institution that even in these trying times, we still continue to serve as prime mover of quality education with our continuous pursuit to the fulfillment of our vision and mission. Through this academic quest, the University had been recognized by the Accrediting Agency for Chartered Colleges and Universities of the Philippines (AACCUP) as one of the Top Performing State Universities and Colleges in the country in the past years. As an academic institution, we maintain this recognition by steering annual self-evaluations, practicing reflection and striving for continuous improvement.
As a result, our campus has become one of the leading Quality Assurance Hubs in the university, holding numerous benchmarking activities with some notable higher education institutions. This is perceptible because of our commitment and dedication braced with habits of highest standards of quality performance.
Being a people-centered institution, we also do not forget to promote leading practices in developing and recognizing outstanding faculty and staff, as well as enhancing communications to employees by designing programs that support their continuous development. Our family of highly competent educators and staff takes part in our recent achievement, the Civil Service Commission's Program to Institutionalize Meritocracy and Excellence in Human Resource Management (PRIME HRM) Award where we earned Bronze (Maturity Level 2).
But then again, producing career-ready graduates has always been fundamental to our mission. Through various processes including career exploration and professional preparation, we connect them with career paths and nurture their abilities and viewpoints needed for professional advancement.
And all of these have become the trademark for Lingayen Campus- to be the most sought-after institution in the Province and even in the Region.
We have come a long way but still our heart goes to our endless visualization of success. We roll up our sleeves and prepare for even a bigger journey.
Equally, I want to thank and welcome all the accreditors to our PSU family. We are excited to work with families who, with joy and a vision of the future, are on our side. Together we can fulfill our vision, mission and goals. With God´s support and guidance, we will continue to provide a holistic education that stimulates the intellectual, social and spiritual development allowing students to grow and develop, explore new interests, and fully realize potential.
At this time, we are challenged with providing this same high-quality standard through new delivery systems. But we always uphold that true character can certainly be revealed in these tough times we are currently experiencing.
With hope, gratitude and courage in our hearts, let us walk onwards nurturing dreams in blue and gold!
Again, welcome to Pangasinan State University- Lingayen Campus, #WhereQualityBegins!
| | |
| --- | --- |
| College of Arts, Sciences, and Letters | Prof. Jufri Jan Louis M. Narvas |
| College of Business and Public Administration | Dr. Abelardo S. Abalos Jr. |
| College of Computing Sciences | Prof. Jeffrey V. Tolentino |
| College of Hospitality and Tourism Management | Dr. Victor T. Bernal |
| College of Industrial Technology | Dr. Corlito P. Cruz |
| College of Teacher Education | Dr. Grace M. De Vera |
OFFICE OF THE CAMPUS EXECUTIVE DIRECTOR
| | |
| --- | --- |
| Campus Executive Secretary | Dr. Jessica James C. Paiso |
| Campus Administrative Officer | Ms. Marie Grace C. Santiago |
| Coordinator, ICT Management Office | Prof. Ferdinand M. Mata |
DEPARTMENT CHAIRPERSONS
| | |
| --- | --- |
| General Education Department | Mr. Rinovic C. Repollo |
| English Language Department | Dr. Jessie S. Paragas |
| Economics Department | Ms. Lea Sheraine A. Navarro, MAEd |
| Natural Science Department | Prof. Jesamine F. Rebugio |
| Nutrition and Dietetics Department | Prof. Geraldine M. Niñeza |
| Social Work Department | Mr. Great I Am W. Gismundo |
| Hospitality Management Department | Dr. Rricky Tim S. Sison |
| Tourism Management Department | Prof. Josephine A. Rosales |
| Business Administration Department | Dr. Christian Mark Cabaluna |
| Public Administration Department | Mr. Jandy Z. Cacapit, MPA |
| Computer Science Department | Dr. Ma. Sheryl R. Sunga |
| Information Technology Department | Mr. Ferdinand Dalisay, MIT |
| Mathematics Department | Ms. Gina Mae R. Natividad |
| Industrial Technology Department | Prof. Ma. Christine A. Soroten |
| Physical Education Department | Ms. Juliet A. Gelido |
| Social Studies Education Department | Mr. Randy F. Soriano, Ph.D. |
| Science Education Department | Mr. Rommel M. Balderas |
| Languages Education Department | Prof. Carmela S. Estimada |
| Professional Education Department | Ms. Analene V. De Guzman, MAEd |
| Technical-Vocational and Livelihood Education Department | Prof. Rosanta V. Alibin |
ADMINISTRATION AND LINKAGES
| | |
| --- | --- |
| Campus Supply Officer | Mr. Kimber Jun M. Fernandez |
| Coordinator, Public Relations, Publication and Information Office | Dr. Rhegina F. Tubera |
| Coordinator, Human Resources Management and Development Office (HRMDO) | Mr. Francis Gerald S. Amansec |
| Coordinator, Records Management | Ms. Judy Ann S. Dela Cruz |
| Coordinator, Physical Plant, Facilities and Construction Management / GeneralServices (concurrent) | Mr. Jeffrey C. Apostol |
| Coordinator, Energy Efficiency and Conservation / Head, Solid Waste Management / PollutionControl Officer | Mr. Cliff Ervin V. David |
| Head, Safty and Security Services | Prof. Andres C. Abalos |
| Head, Hostel and Accommodation Services | Prof. Senando M. Evangelista |
| School Paper Adviser | Mr. Mohamed Ardaniel C. Swandi |
ACADEMIC AND STUDENT AFFAIRS
| | |
| --- | --- |
| Coordinator, Student Services and Alumni Affairs | Mr. Menard P. Nava |
| Coordinator, NSTP, PE & Sports Dev't | Ms. Juliet A. Gelido (concurrent) |
| Coordinator, Culture and Arts Affairs | Mr. Frederick M. Lalimarmo |
| Campus Registrar | Ms. Helen B. Mabanta |
| Head, Library Services | Mr. Jonathan A. Pantaleon |
| Head, Medical and Dental Services | Ms. Paz Cheri Ann V. Soriano |
| Head, Admission and Guidance Services | Ms. Beverly Fernandez |
| Head, On-the-Job Training, Skills and Career Development | Ms. Jay-An V. Abalos |
| Head, Practice Teaching | Dr. Katherine D.V. Queroda |
| Focal Person, ETEEAP | Mr. Jonathan C. Daco |
PLANNING AND FINANCE MANAGEMENT
| | |
| --- | --- |
| Campus Accountant (OIC) | Ms. Diane Abegail V. Bautista |
| Campus Cashier | Ms. Arlene N. Padilla |
| Coordinator, Income Generating Projects | Prof. Lemuel M. Ventayen |
| Coordinator, Planning | Prof. Vladimir Marie E. Cabutotan |
RESEARCH, EXTENSION AND INNOVATION
| | |
| --- | --- |
| Coordinator, Research and Development | Mr. Jameson Estrada |
| Coordinator, Extension Services | Mr. Joebert D. Ballesteros |
| Coordinator, Gender & Development | Ms. Eva Jamaillah O. Pescador |
| Head, Statistics Center | Ms. Roselyn M. Villaruz, MAEd |
QUALITY ASSURANCE
| | |
| --- | --- |
| Coordinator, Quality Assurance | Ms. Shiela Marie G. Malicdem |
| Document Control Custodian | Ms. Cherish Kay L. Pastor |
| Head, Risk Management Unit | Mr. Rommel M. Balderas |
CAMPUS SITE DEVELOPMENT PLAN